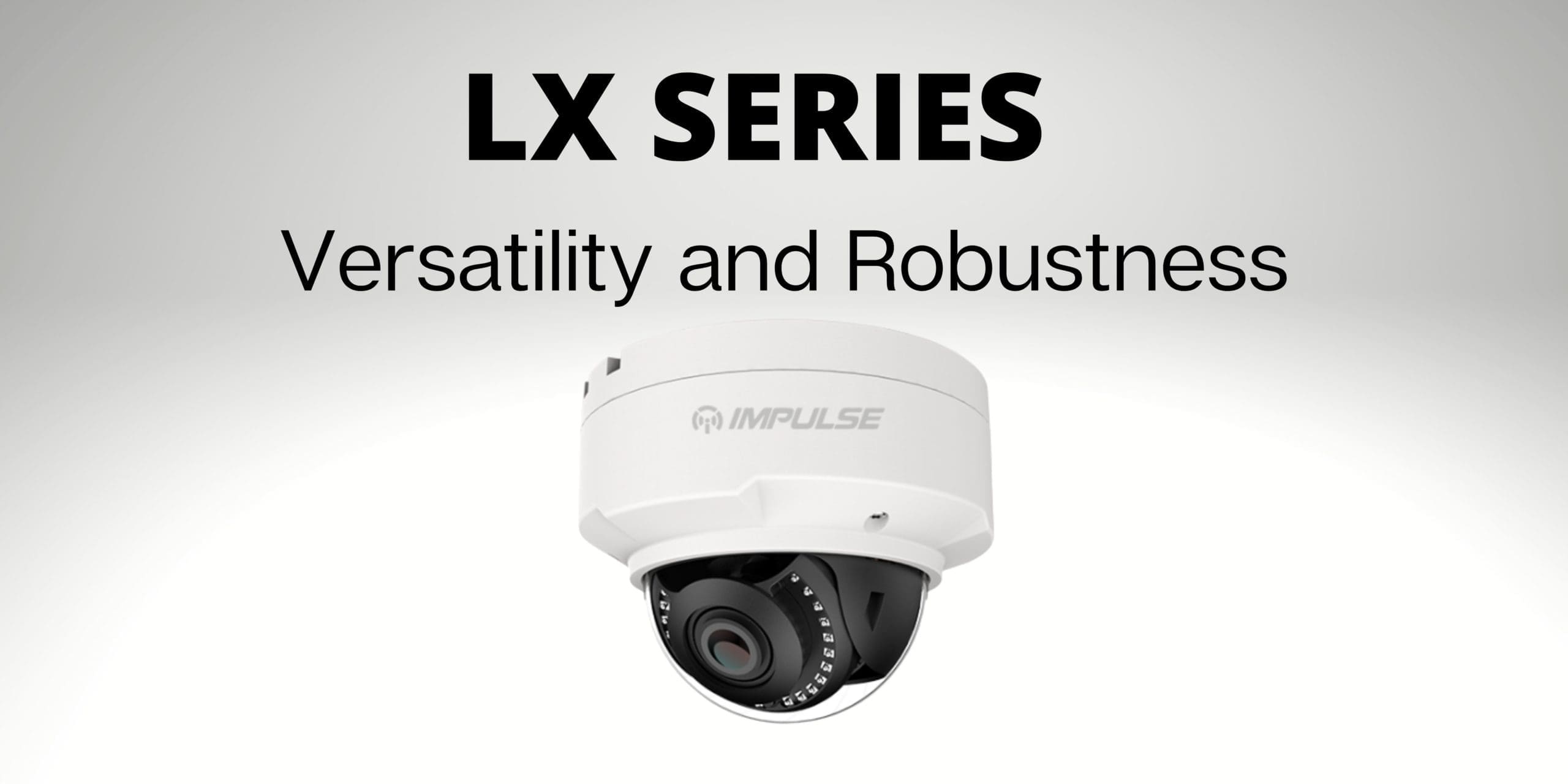 The LX Series Dome cameras are the ultimate in versatility and robustness – built to withstand any condition, but still providing crystal-clear image quality and maximum environmental responsiveness.   The LX Series Dome is the work-horse of the Impulse suite – reliable, dependable and very popular.  There are seven models of  dome cameras in the suite to choose from for your network, to ensure the network is customised to suit the project perfectly in terms of conditions, size and complexity.  
Providing up to 8MP resolution, the cameras in the series feature a progressive CMOS scanning system, slow shutter support, up to 120bD wide dynamic range, and 2D/3D digital noise reduction. The suite features an IR cut filter with auto-switch for day/night/auto/schedule – which deals with varying light conditions to ensure nothing is missed no matter the lighting situation.  Shadows pose a problem for a fixed camera network as lighting conditions are continuously changing and can mask the visual, thanks to this technology the problems caused by varying lighting conditions are easily navigated.  
All LX dome cameras feature Embedded Intelligent Video Analytics. They are cameras that 'think' thanks to advanced deep-learning algorithms. The type of application includes perimeter intrusion detection, line crossing detection, stationary object detection, pedestrian detection, face detection, cross counting, pedestrian detection and motion detection.  This technology has revolutionized crowd management and control, safety in public spaces, access control, perimeter control and people counting.  Large public spaces are now much easier to safeguard and convictions are much easier thanks to evidence being readily available.  The cameras are tamper-proof and feature flash prevention, dual stream, heartbeat, mirror, password protection, privacy mask and IP address filtering. This ensures that if there is a breach and automatic intervention is not sufficient, the control room is alerted and can immediately respond. 
The LX series features Dome, Bullet, PTZ, Box cameras and Video Recorders – all with the same durability and reliability.