Installation in the environmentally sustainable Thyagaraj Stadium
Thyagaraj Stadium, located in Delhi, was the first environmentally sustainable stadium built in India, it was constructed using the latest green building technologies including solar power, where the stadium will actually feed power into the grid, not only sustain itself in terms of power.  The building is set on a 16.5 acre piece of land and has a seating capacity of 5000. The stadium was originally built to host the 2010 Commonwealth games and was awarded byThe Indian Green Building Council.
The structure is made from a steel frame with Pulverised fuel ash bricks, and flooring materials used were granite, recycled PVC, carpets, epoxy and Kota stone.  The main area flooring is made from maple wood. Sports catered for include running, netball and tennis. As quoted by Sportsmatnik, the stadium is counted amongst the greenest state of the art venues in India.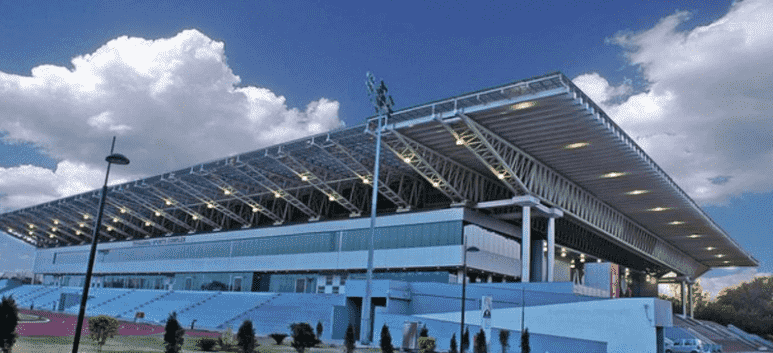 We installed a  camera system of LX series dome and bullet cameras, linked with a DX series NVR, in the stadium building to secure the premises.  With 8MP resolution, 128Kbps ~ 8Mbps Video Quality Adjustment and a 3.6mm focal length you don't miss much with the LX Series bullet cameras, even with large distances like in a stadium.   The LX Series dome cameras feature 120dB wide dynamic range and both the dome and bullet cameras feature Intelligent Embedded Video Analytics, so not only do these cameras see any activity but they interpret it too. Crowd control is important in a large stadium and these state of the art cameras are there to assist every step of the way. 
Impulse CCTV & PoE Switching offers Industrial Grade Video Surveillance and Networking Systems to the global market.  We provide unparalleled quality and personal verification on each product to ensure the best possible end system for our partners. We are high-risk critical infrastructure experts that service hospitals, large educational campuses, stadiums and more.
PARTNER WITH US TO SECURE YOUR PREMISES